Charlotte Suzuki Strings students recently performed a concert for the residents at Waltonwood Providence. The concert was held on April 29th. Our 14 participating students performed selections from their Suzuki books, from Bach Minuets to Twinkle, Twinkle and more! The performance was for the Assisted Living residents of Waltonwood Providence.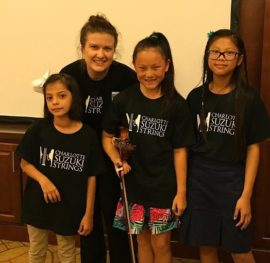 The Suzuki Method of music education was initiated in the middle of the 20th century by Japanese violinist and pedagogue Shinichi Suzuki. Dr. Suzuki noticed that children pick up their native language quickly at age five or six.  He envisioned that young children could learn to play the violin the same way that they learn their own language – through listening and imitation.   Suzuki believed that every child, if properly taught, was capable of a high level of musical achievement. Suzuki taught using the concept "character first, ability second". His goal was not just to develop professional musicians, but to embrace the whole child, nurturing a love of music, to develop a fine character rather than just the mastering of a musical instrument. Suzuki called this the "mother tongue" method.
Charlotte Suzuki Strings students enjoy both individual and group educational time. Individual lessons are taught to let each child progress at his/her own pace. Group lessons are used to review the materials presented in the private lesson and to introduce the skill of playing together. Our Suzuki students perform Winter and Spring Recitals, in addition to performances in the Charlotte community.
Learn more about the Suzuki Program at CAM!
---
Share this: